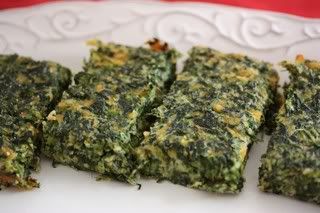 Photo from mealmakeovermoms.com.
Found this recipe on
http://mealmakeovermoms.com
. Looks good to me. Haven't tried it yet, but I love cheese and spinach recipes.
Cheesy Spinach Bake
Makes 8 Servings
One 10-ounce box frozen chopped spinach, thawed*
2 large eggs*
½ cup 1% low-fat milk*
1 tablespoon extra virgin olive oil or melted butter
½ cup Italian style seasoned bread crumbs
½ teaspoon baking powder
1 cup shredded reduced-fat Cheddar cheese (4 ounces)*
¼ cup grated Parmesan cheese
Kosher salt
1. Preheat the oven to 350°F. Lightly oil or coat an 8 x 8-inch baking pan or dish with nonstick cooking spray and set aside.
2. Drain the spinach very well by pressing in a colander with the back of a large spoon and using paper towels to remove excess moisture. Set aside.
3. In a large bowl, whisk together the eggs, milk, and olive oil until combined. Whisk in the bread crumbs and baking powder. Stir in the spinach, Cheddar cheese, and Parmesan cheese until well combined.
4. Spread the mixture evenly in the prepared pan. Bake until the mixture is set and the top is golden brown, 25 to 30 minutes. Slice into 2 x 4-inch rectangles and serve. Sprinkle the tops with a few pinches of salt to taste