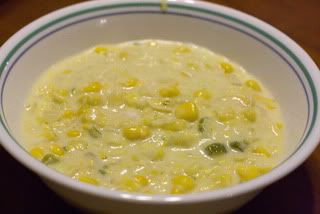 This was the first time making corn chowder, and it was really good. I got the recipe from
Hillbilly Housewife
. The main ingredients in this chowder are WIC foods, making a great meal for your family.
Corn Chowder
2 tablespoons margarine
1 onion, small, minced*
1/2 cup celery, minced*
1 tablespoon flour, all-purpose
2 1/4 cups milk, skim*
2 8-10 ounce bags frozen corn*
1/4 teaspoon salt
1/4 teaspoon white pepper, ground
1/8 teaspoon thyme, ground
Paprika
Melt margarine in a heavy 2 quart saucepan over medium heat. Add the onion and celery and saute 5 minutes or until tender. Stir in the flour and cook it for 1 minute. Be sure to stir the mixture the whole time or the flour will burn.
Slowly add the milk and keep stirring until the mixture is thick and bubbly. Add the corn, salt, pepper and thyme and simmer the soup for 20 minutes.
Just before serving, puree half the soup in blender or food processor. Or you can use your whisk to mash some of it up right in the pot. Return the mixture to saucepan and mix with remaining soup. Sprinkle some paprika in each bowl of soup when you serve it.