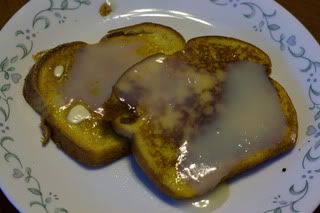 This is a true comfort meal for me. My grandpa made homemade syrup for us when we would come over. He got the recipe from his mom.
French Toast
Bread*
2-3 eggs*
Milk*
I never measure with french toast. I take 2 or 3 eggs and beat them. Then I add the milk until you get a consistency you like, and mix well. Pour into a pie plate. Dip bread slices into egg/milk mixture coating both sides. Cook on med-med high skillet.
Homemade Syrup
1 Cup white sugar
1 Tab Butter
1-2 Tab Flour
1 Cup Milk*
1 teas. vanilla
Mix sugar and flour together in med size pan. Add all but vanilla. Bring to a boil on low heat stirring constantly and cook until thickened. Add vanilla. Serve over french toast.