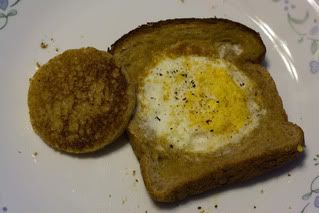 My grandpa made these for me a lot as a child. Now I make them for my kids.
Eggs in a Basket
1 slice bread*
1 egg*
butter
salt and pepper, optional
Butter the bread on both sides. Taking a glass, biscuit cutter, or a knife, cut a hole in the middle of the bread. Place bread on greased medium skillet. Drop egg in the hole. Salt and pepper to taste. Make sure it's well greased in the hole, or you will end up sticking. Turn and brown other side. Serve.
Option: For my young kids, I scramble the egg before placing in the hole. This just makes sure the middle gets done for them.